Inflatable Solution Provider in China

YOLLOY OUTDOOR PRODUCT CO., LIMITED
Inflatable Gorilla Ballnoon for advertising
Item
:IG-02
Size is 5mH*2mW
Material:PVC Tarp & Oxford fabric
Color as picture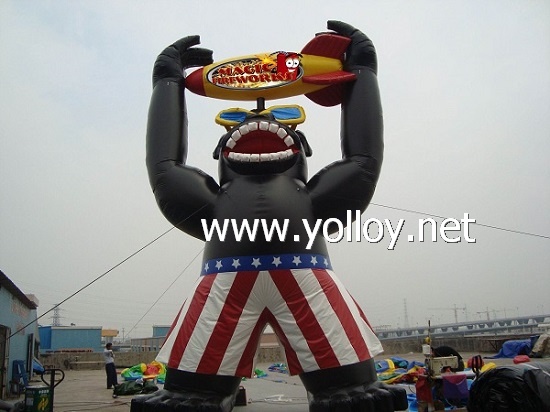 Inflatable Gorilla Ballnoon for advertising
The size of the display is ( 5 meters tall )
1.giant inflatbale gorilla can be customized to the size, color, shape, print advertising logo, built-in led lighting
2. It can be 3 meters, 4 meters, 6 meters, 8 meters, even 10 meters
3. If you have a picture of design or idea, you can send it to us. We can customize it for you.
Custom Inflatable Characters
Our design team has brought team mascots, brand & cartoon characters, and more to life through inflatable characters. Whether you have a strong brand that dates back 100 years or you're a new shop in town, a custom inflatable character will help you stand out from the competition and grow brand awareness for your company through memorable inflatable mascots. We pay attention to how new characters are created, as well as focus on how to preserve the legacy of those that were created before the computer. Utilize custom inflatable characters in your next outdoor advertising campaign, special event, or for daily use outside of your storefront.
View our portfolio of custom inflatable mascots and characters below and contact us today for more information.