Inflatable Solution Provider in China

YOLLOY OUTDOOR PRODUCT CO., LIMITED

Name: Sunny Yang
Tel: +86-20-36610108
Fax: +86-20-36610118
Mobile: 13570587575
E-mail: sales@yolloy.com
Add: No. 2, Wanshou Street, HanTang village, Renhe Town, BaiYun Area, Guangzhou City, Guangdong, China.


Interesting inflatable water roller for you and your kids

Author:inflatable water roller Date:2013-3-21 22:17:04

Walking on the water surface was had a highly excepted in the ancient time, and people had tried many ways to achieve this dream, but all of them were failed. With the development of the society and technology, it is easy for people to walk on the surface of water in nowadays. You just need an inflatable water roller to make this dream come true.

Inflatable water roller is a kind of rolling facilities, which is inflatable that can be float on the water. As you can see in the picture, the roller is colorful and in a shape of cylinder but its center is hollow, and the hollow room can let people stand in it to make the roller roll.

You may have a question that if the roller will be sink when there are four or five people in it. The answer is negative. This kind of inflatable products has different size. It has the smallest one can contain one person. The second small size one can hold two people in it, like it shows in the picture. And there is some bigger size which can have more people in it. To make the rollers not sink during it is rolled on water surface, you must choose the right size of it that suit for you, in another word, you should make sure that the roller you have chose can bear the weight of the people who want to roll in it together. Different sizes of the rollers have different pressure that it can bear. So, the standard of the inflatable roller you choose is very important to your safety.

To be a good water game facilities must has many advantages that can attract people and the rent shopkeepers or the managers of the water parks. As an inflatable product, the inflatable roller is easy to transport because it has a small weight than the rollers made with other material which is not the PVC tarpaulin. It is the same with other inflatable products like the inflatable balls and inflatable water climbers that it is easy to set up with an air blower and to fold up without difficulty. The safety is the most important thing when you are play with the rollers, so we make the rollers with the high quality material and exquisite sewing to make sure the roller is durable and safe enough for you. Last but not least, the inflatable rollers are soft that you will not get hurt when you are walking in it.

http://www.yolloy.net/Inflatable-Water-Park-Game/Inflatable-water-walking-roller-for-water-playground-192.html
Interesting inflatable water roller for you and your kids
Author:inflatable water roller Date:2013-3-21 22:17:04
Walking on the water surface was had a highly excepted in the ancient time, and people had tried many ways to achieve this dream, but all of them were failed. With the development of the society and technology, it is easy for people to walk on the surface of water in nowadays. You just need an inflatable water roller to make this dream come true.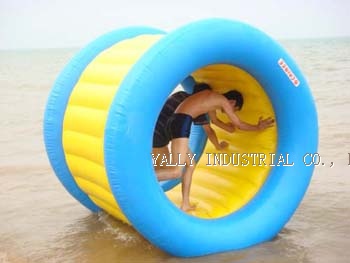 Inflatable water roller is a kind of rolling facilities, which is inflatable that can be float on the water. As you can see in the picture, the roller is colorful and in a shape of cylinder but its center is hollow, and the hollow room can let people stand in it to make the roller roll.
You may have a question that if the roller will be sink when there are four or five people in it. The answer is negative. This kind of inflatable products has different size. It has the smallest one can contain one person. The second small size one can hold two people in it, like it shows in the picture. And there is some bigger size which can have more people in it. To make the rollers not sink during it is rolled on water surface, you must choose the right size of it that suit for you, in another word, you should make sure that the roller you have chose can bear the weight of the people who want to roll in it together. Different sizes of the rollers have different pressure that it can bear. So, the standard of the inflatable roller you choose is very important to your safety.
To be a good water game facilities must has many advantages that can attract people and the rent shopkeepers or the managers of the water parks. As an inflatable product, the inflatable roller is easy to transport because it has a small weight than the rollers made with other material which is not the PVC tarpaulin. It is the same with other inflatable products like the inflatable balls and inflatable water climbers that it is easy to set up with an air blower and to fold up without difficulty. The safety is the most important thing when you are play with the rollers, so we make the rollers with the high quality material and exquisite sewing to make sure the roller is durable and safe enough for you. Last but not least, the inflatable rollers are soft that you will not get hurt when you are walking in it.

http://www.yolloy.net/Inflatable-Water-Park-Game/Inflatable-water-walking-roller-for-water-playground-192.html