Inflatable Solution Provider in China

YOLLOY OUTDOOR PRODUCT CO., LIMITED

Name: Sunny Yang
Tel: +86-20-36610108
Fax: +86-20-36610118
Mobile: 13570587575
E-mail: sales@yolloy.com
Add: No. 2, Wanshou Street, HanTang village, Renhe Town, BaiYun Area, Guangzhou City, Guangdong, China.


How to choose the right place for sale in your inflatable tent business

Author:inflatable tent Date:2013-3-26 11:21:18

As we all know, the rich men can have a trip frequently. No matter he is not in the past, or in the modern, all rich men always are interesting in travel, in the meanwhile, the inflatable tent is very essential on their way trip.

In fact, as long as they need go out for travel, they all need have a rest every time. This is a truth. In recent years, many poor people also have turned into rich life, so they also love the beauty, they also would love to enjoy life, including the travel. Of course, the inflatable tent is a best tool for all people who love travel in nowadays.


As a wholesaler, do you know in which city is better for sale? In our lives, a large part of the population is concentrated in the big cities, someone is workman, someone is a small businessman, and others are some retire wealthy elders. If you place all inflatable tent into some big cities for wholesale, I thought the sales will be very well. For example, you can purchase the following one, because it is very popular this year.

This inflatable tent is also a transparent PVC tent. It is made of the 0.8mm PVC. The

dome is about 4m in diameter and the 3m high, the tunnel is about 2mx2m. Generally speaking, this transparent PVC inflatable tent is very easy to take when you go out.


In every big city of each country, if the inflatable tent shop is opened in a flow of more places, as long as many people are more, you will have a very good business. And in our daily life, people are liquidity today. There are many rich and poor people in different places, so we have to provide them with different tents, we also can give the new style and low price to meet them.

In sometimes, not just the big city people like taking the inflatable tent for travel, but the small city people are also love it too, because the inflatable tent is also a cheap and fashion tent in recent years. Of course, once we have a trip very often, we will be healthy people forever.

Therefore, if you want to wholesale inflatable tent, you had better choose the right place in the big city that the more and more people can live in there. If you do that, your business will certainly become increasingly prosperous.
http://www.yolloy.net/Clear-Inflatable-Dome-Tent/
How to choose the right place for sale in your inflatable tent business
Author:inflatable tent Date:2013-3-26 11:21:18
As we all know, the rich men can have a trip frequently. No matter he is not in the past, or in the modern, all rich men always are interesting in travel, in the meanwhile, the inflatable tent is very essential on their way trip.
In fact, as long as they need go out for travel, they all need have a rest every time. This is a truth. In recent years, many poor people also have turned into rich life, so they also love the beauty, they also would love to enjoy life, including the travel. Of course, the inflatable tent is a best tool for all people who love travel in nowadays.

As a wholesaler, do you know in which city is better for sale? In our lives, a large part of the population is concentrated in the big cities, someone is workman, someone is a small businessman, and others are some retire wealthy elders. If you place all inflatable tent into some big cities for wholesale, I thought the sales will be very well. For example, you can purchase the following one, because it is very popular this year.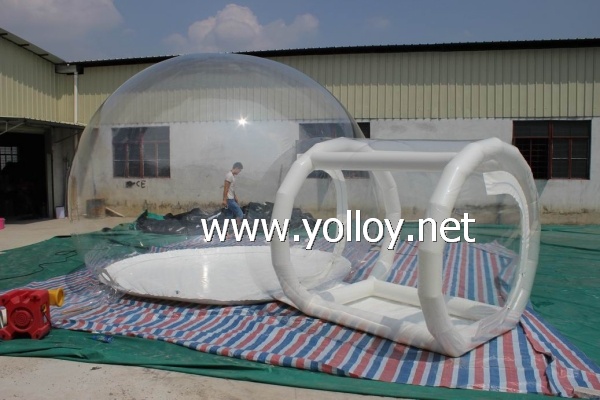 This inflatable tent is also a transparent PVC tent. It is made of the 0.8mm PVC. The
dome is about 4m in diameter and the 3m high, the tunnel is about 2mx2m. Generally speaking, this transparent PVC inflatable tent is very easy to take when you go out.

In every big city of each country, if the inflatable tent shop is opened in a flow of more places, as long as many people are more, you will have a very good business. And in our daily life, people are liquidity today. There are many rich and poor people in different places, so we have to provide them with different tents, we also can give the new style and low price to meet them.
In sometimes, not just the big city people like taking the inflatable tent for travel, but the small city people are also love it too, because the inflatable tent is also a cheap and fashion tent in recent years. Of course, once we have a trip very often, we will be healthy people forever.
Therefore, if you want to wholesale inflatable tent, you had better choose the right place in the big city that the more and more people can live in there. If you do that, your business will certainly become increasingly prosperous.
http://www.yolloy.net/Clear-Inflatable-Dome-Tent/