Inflatable Solution Provider in China

YOLLOY OUTDOOR PRODUCT CO., LIMITED

Name: Sunny Yang
Tel: +86-20-36610108
Fax: +86-20-36610118
Mobile: 13570587575
E-mail: sales@yolloy.com
Add: No. 2, Wanshou Street, HanTang village, Renhe Town, BaiYun Area, Guangzhou City, Guangdong, China.


More professional entertainment equipment appeared in the garden—inflatable lawn tent

Author:inflatable lawn tent Date:2013-4-3 11:25:26

Do you often walk through the park? Do you like to walk on the lawn in the park? Can you see many inflatable lawn tents are bracing on the lawn? Without doubt, more professional entertainment equipment has appeared in the garden for a long time.

About the inflatable lawn tent, as a house wife, I have nothing to do except looking after the children every day. In my family, I have four children, and I aways take them to the garden with the tent in order to have a rest all day. Several years ago, I often use the common tent on the lawn, but it is not enough convenient, I have to look for the good one instead of the old.

With the development of science and technology, the very beautiful transparent inflatable lawn tent was launched, it is easy to install and unfold. Most important, when we stayed in its inner, we felt more comfort than before. Now, I feel very happy every day because of the following transparent inflatable lawn tent.

This transparent inflatable lawn tent is 1.0mm PVC, double layer, and the blower with CE/UL. The material is 0.8mm PVC. The dome size is about 4m diameter and 3m high. The tunnel is about 2mx2m, besides, it is self-sealing.

The standard air blower for different market, and the use period is about 36-59 months. The material with SGS/EN7.1, blower with CE/ UL, with accessories such as the air blower, ground sheet repair kit, glue, instruction,and so on. Generally speaking, this transparent inflatable lawn tent is mainly used in amusement park or family yard.

Usually, I like to stay in the People's Park near my house, this garden's scale is very large, so its lawn also has a big space. To my surprisingly, the number of tents is up to 100, sometimes the tent also can be seen on the corner of the lawn, particularly the transparent inflatable lawn tent is very attractive.

In the past, most tourists put up a tablecloth, even a few pieces of newspaper, having a picnic on the lawn, and playing cards. But now,the equipment has more and more professional, more and more tents are launched. Moreover, the tents are also sizable, they can be put down to five or six people.

Therefore, with the improvement of the people's living, more professional entertainment equipment appeared in the garden. Maybe you have never use any tents on the lawn, what a pity! Dear friends, if you would love to improve the quality of your life, you'd better get this transparent inflatable lawn tent and enjoy the life on the lawn, it is always a pleasure.
http://www.yolloy.net/Clear-Inflatable-Dome-Tent/
More professional entertainment equipment appeared in the garden—inflatable lawn tent
Author:inflatable lawn tent Date:2013-4-3 11:25:26
Do you often walk through the park? Do you like to walk on the lawn in the park? Can you see many inflatable lawn tents are bracing on the lawn? Without doubt, more professional entertainment equipment has appeared in the garden for a long time.
About the inflatable lawn tent, as a house wife, I have nothing to do except looking after the children every day. In my family, I have four children, and I aways take them to the garden with the tent in order to have a rest all day. Several years ago, I often use the common tent on the lawn, but it is not enough convenient, I have to look for the good one instead of the old.
With the development of science and technology, the very beautiful transparent inflatable lawn tent was launched, it is easy to install and unfold. Most important, when we stayed in its inner, we felt more comfort than before. Now, I feel very happy every day because of the following transparent inflatable lawn tent.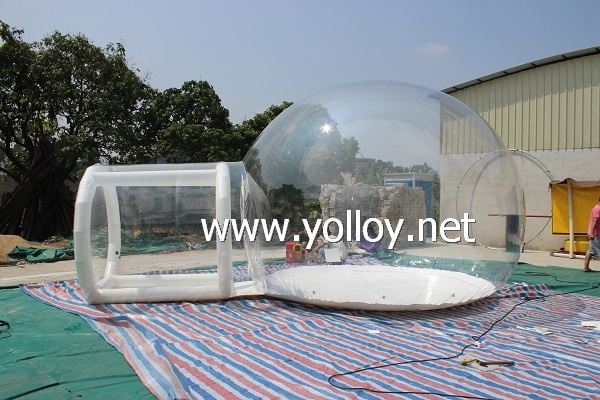 This transparent inflatable lawn tent is 1.0mm PVC, double layer, and the blower with CE/UL. The material is 0.8mm PVC. The dome size is about 4m diameter and 3m high. The tunnel is about 2mx2m, besides, it is self-sealing.
The standard air blower for different market, and the use period is about 36-59 months. The material with SGS/EN7.1, blower with CE/ UL, with accessories such as the air blower, ground sheet repair kit, glue, instruction,and so on. Generally speaking, this transparent inflatable lawn tent is mainly used in amusement park or family yard.
Usually, I like to stay in the People's Park near my house, this garden's scale is very large, so its lawn also has a big space. To my surprisingly, the number of tents is up to 100, sometimes the tent also can be seen on the corner of the lawn, particularly the transparent inflatable lawn tent is very attractive.
In the past, most tourists put up a tablecloth, even a few pieces of newspaper, having a picnic on the lawn, and playing cards. But now,the equipment has more and more professional, more and more tents are launched. Moreover, the tents are also sizable, they can be put down to five or six people.
Therefore, with the improvement of the people's living, more professional entertainment equipment appeared in the garden. Maybe you have never use any tents on the lawn, what a pity! Dear friends, if you would love to improve the quality of your life, you'd better get this transparent inflatable lawn tent and enjoy the life on the lawn, it is always a pleasure.
http://www.yolloy.net/Clear-Inflatable-Dome-Tent/