Inflatable Solution Provider in China

YOLLOY OUTDOOR PRODUCT CO., LIMITED

Name: Sunny Yang
Tel: +86-20-36610108
Fax: +86-20-36610118
Mobile: 13570587575
E-mail: sales@yolloy.com
Add: No. 2, Wanshou Street, HanTang village, Renhe Town, BaiYun Area, Guangzhou City, Guangdong, China.


Inflatable igloo whole dome tent

Author:Inflatable igloo dome Date:2013-11-12 10:08:40


How do you like this tent at your first sight? You may think it a kind of regional palace which is made like a tent deliberately. However, although its outlook gives people a mysterious feeling, it is just a kind of inflatable tent which is very popular and useful to these days.

Just as you can see, the tent has a tunnel for entering, and the whole tent is white, which makes it look very grand and splendid. The most specific figure of this tent is that it has a large igloo, because of this, it is called inflatable igloo whole dome tent. It will turn out to be a sealed space once the doorway is closed. This tent is large enough to contain dozens of people, and it is also very durable. As it will stands on land by blowing air, this inflatable tent will not suddenly fall down even if it is spoiled. It will slowly fall down, which give people enough time to get out of it.

As other kinds of our products, this large tent possess all the advantages of inflatable tents. And for its usage, to be honest, hardly nothing different from the other kinds. However, it has a large igloo, so it is much more outstanding no matter in size or in shape.

You may wonder what activity can be held inside this tent. I say, just spread your wings of imagination, it can provide you with a lot of possibilities as long as your mind can touch. With this splendid tent, simple things become terrific, normal things becomebravo. Such is human nature, that an attractive thing can bring special significance to a certain thing.

Inflatable igloo whole dome tent is very convenient and flexible which is widely used as inflatable party tent,inflatable event tent,inflatable advertising tent, inflatable sports tent, inflatable exhibition tent, inflatable wedding tent, inflatable warehouse tent, rest room tent and so on.

Our inflatable building is very easy to be installed and take down to move around,it is much cheap than solid building. Also our inflatable dome tent can be very beautiful, you can install lights inside to make it be a prismy lighting tent. Inflatable air tent can be made any size as you need, for example, we can make party tent to hold from tens people to thousand people. All of our inflatable marquee is very safe, even tent is broken by accident, it will fall down very slowly, so people inside have enough time to get out,and also you can repair it during this time.

For more information, just visit our website!
www.yolloy.net/Outdoor-Inflatable-Tents/inflable-igloo-whole-dome-tent-306.html
Inflatable igloo whole dome tent
Author:Inflatable igloo dome Date:2013-11-12 10:08:40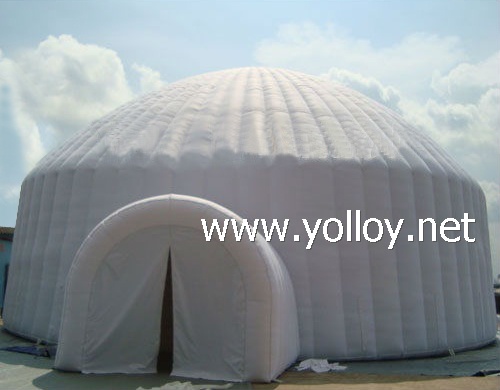 How do you like this tent at your first sight? You may think it a kind of regional palace which is made like a tent deliberately. However, although its outlook gives people a mysterious feeling, it is just a kind of inflatable tent which is very popular and useful to these days.
Just as you can see, the tent has a tunnel for entering, and the whole tent is white, which makes it look very grand and splendid. The most specific figure of this tent is that it has a large igloo, because of this, it is called inflatable igloo whole dome tent. It will turn out to be a sealed space once the doorway is closed. This tent is large enough to contain dozens of people, and it is also very durable. As it will stands on land by blowing air, this inflatable tent will not suddenly fall down even if it is spoiled. It will slowly fall down, which give people enough time to get out of it.
As other kinds of our products, this large tent possess all the advantages of inflatable tents. And for its usage, to be honest, hardly nothing different from the other kinds. However, it has a large igloo, so it is much more outstanding no matter in size or in shape.
You may wonder what activity can be held inside this tent. I say, just spread your wings of imagination, it can provide you with a lot of possibilities as long as your mind can touch. With this splendid tent, simple things become terrific, normal things becomebravo. Such is human nature, that an attractive thing can bring special significance to a certain thing.
Inflatable igloo whole dome tent is very convenient and flexible which is widely used as inflatable party tent,inflatable event tent,inflatable advertising tent, inflatable sports tent, inflatable exhibition tent, inflatable wedding tent, inflatable warehouse tent, rest room tent and so on.
Our inflatable building is very easy to be installed and take down to move around,it is much cheap than solid building. Also our inflatable dome tent can be very beautiful, you can install lights inside to make it be a prismy lighting tent. Inflatable air tent can be made any size as you need, for example, we can make party tent to hold from tens people to thousand people. All of our inflatable marquee is very safe, even tent is broken by accident, it will fall down very slowly, so people inside have enough time to get out,and also you can repair it during this time.
For more information, just visit our website!
www.yolloy.net/Outdoor-Inflatable-Tents/inflable-igloo-whole-dome-tent-306.html