Inflatable Solution Provider in China

YOLLOY OUTDOOR PRODUCT CO., LIMITED

Name: Sunny Yang
Tel: +86-20-36610108
Fax: +86-20-36610118
Mobile: 13570587575
E-mail: sales@yolloy.com
Add: No. 2, Wanshou Street, HanTang village, Renhe Town, BaiYun Area, Guangzhou City, Guangdong, China.


Inflatable Christmas Decorations For Outdoors

Author:yolloy inflatable Date:2016-6-27 14:46:31

Christmas is the favorite day for the people all around the world, and it is a special time of the year when people enjoy gathering together and relax from the busy days. All people like this holy day, both adults and for children alike. However, if you want to make this day more interesting and more vivid as well, you need to decorate your house and yard with inflatable outdoor Christmas decorations.

There are a lot of different products on the market for this purpose. You can find a lot of different inflatable decorations for outdoors, such as Christmas tree, air bells, Snowman and Santa Claus. Even if you live in the area where the snow is a rare occurrence, you can use these outdoor inflatables.



As Christmas approaches, children and grown-ups alike are lining up for the season's most popular holiday décor: an inflatable Santa Claus complete with his eight trusty reindeer. After all, who better to spread Christmas joy than our loveable, bearded gift-giving friend? Santa is available in a variety of sizes but needs the help of Rudolph and the rest to pull his sleigh and bring holiday spirit to your yard. Accompanying Santa is the inflatable snowman, another Christmas staple. Instead of freezing your hands in the snow, you can inflate him with a few pumps and a little effort and then enjoy him immediately from the warm indoors with a nice cup of hot cocoa in hand. Whether you choose Santa, a snowman, or any of the other inflatable holiday characters, you'll be able to enjoy them in both cold and warm climates as they are heat-resistant and won't melt!



These Christmas inflatables are not only eye-catching and festive, they are also highly durable and will last year after year! To get a feel for their robustness, we invite you to click the page of the product that you are interested in to see the types of materials that are used to make them last, like clear PVC and PVC tarpaulin, for instance. If you see a material that you don't like, then let us know! We will be happy to accommodate your preferences to make sure that you're satisfied with your purchase. Our product pages also feature shipment details, reviews and any other information you need to know. Take a look and see how many are raving about these inflatable characters!



Christmas inflatables are made from top-notch materials and come with a 3-year warranty upon purchase. In addition, you'll have access to our support hotline 24 hours a day, 7 days a week for any questions or concerns that may arise. You can even take advantage of our "Chat Now" support to get immediate answers. Please keep in mind that you will have to wait a couple of minutes in order to be connected with one of our product experts and that we also have Skype available as a contact method. Once your payment has been processed, your item will be shipped by land, sea or air and will be delivered within 10 to 15 days right to your front door.

For more info, click: http://www.yolloy.net/inflatable-advertising-model/page-2.html
Inflatable Christmas Decorations For Outdoors
Author:yolloy inflatable Date:2016-6-27 14:46:31
Christmas is the favorite day for the people all around the world, and it is a special time of the year when people enjoy gathering together and relax from the busy days. All people like this holy day, both adults and for children alike. However, if you want to make this day more interesting and more vivid as well, you need to decorate your house and yard with inflatable outdoor Christmas decorations.

There are a lot of different products on the market for this purpose. You can find a lot of different inflatable decorations for outdoors, such as Christmas tree, air bells, Snowman and Santa Claus. Even if you live in the area where the snow is a rare occurrence, you can use these outdoor inflatables.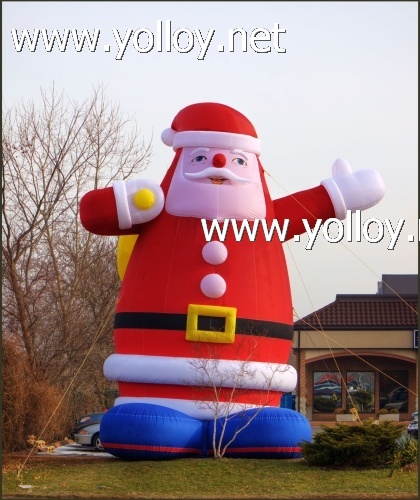 As Christmas approaches, children and grown-ups alike are lining up for the season's most popular holiday décor: an inflatable Santa Claus complete with his eight trusty reindeer. After all, who better to spread Christmas joy than our loveable, bearded gift-giving friend? Santa is available in a variety of sizes but needs the help of Rudolph and the rest to pull his sleigh and bring holiday spirit to your yard. Accompanying Santa is the inflatable snowman, another Christmas staple. Instead of freezing your hands in the snow, you can inflate him with a few pumps and a little effort and then enjoy him immediately from the warm indoors with a nice cup of hot cocoa in hand. Whether you choose Santa, a snowman, or any of the other inflatable holiday characters, you'll be able to enjoy them in both cold and warm climates as they are heat-resistant and won't melt!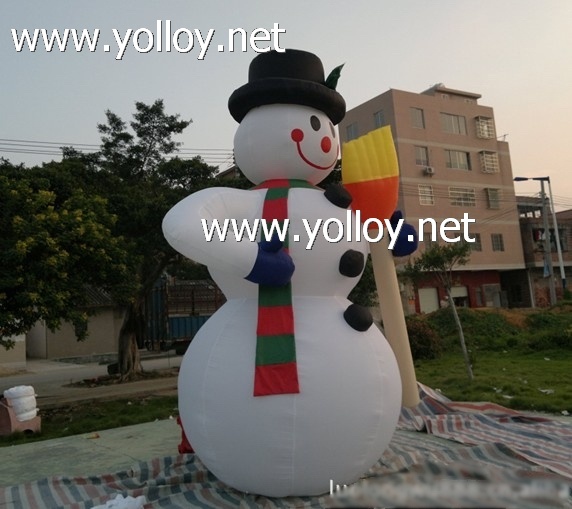 These Christmas inflatables are not only eye-catching and festive, they are also highly durable and will last year after year! To get a feel for their robustness, we invite you to click the page of the product that you are interested in to see the types of materials that are used to make them last, like clear PVC and PVC tarpaulin, for instance. If you see a material that you don't like, then let us know! We will be happy to accommodate your preferences to make sure that you're satisfied with your purchase. Our product pages also feature shipment details, reviews and any other information you need to know. Take a look and see how many are raving about these inflatable characters!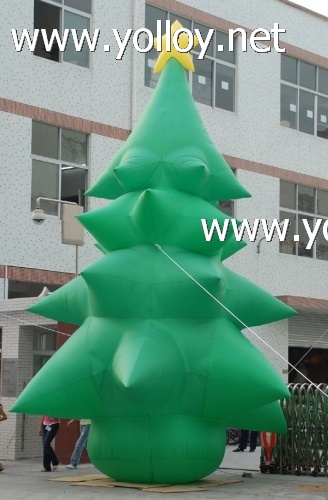 Christmas inflatables are made from top-notch materials and come with a 3-year warranty upon purchase. In addition, you'll have access to our support hotline 24 hours a day, 7 days a week for any questions or concerns that may arise. You can even take advantage of our "Chat Now" support to get immediate answers. Please keep in mind that you will have to wait a couple of minutes in order to be connected with one of our product experts and that we also have Skype available as a contact method. Once your payment has been processed, your item will be shipped by land, sea or air and will be delivered within 10 to 15 days right to your front door.

For more info, click: http://www.yolloy.net/inflatable-advertising-model/page-2.html