Inflatable Solution Provider in China

YOLLOY OUTDOOR PRODUCT CO., LIMITED
Air Tight Inflatable Igloo Tent
Item
:IT-602
Size: 5m diameter, 3m high
Material: PVC tarpaulin
Color: white or customized
Weight: 110kgs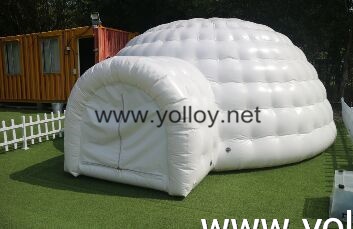 Air Tight Inflatable Igloo Tent
This igloo dome can be used indoor for a snow themed party so a few people can be inside while taking photos of each other. And it also can be used for family camping, mobile room etc.
Material we used for this dome is commercial grade PVC tarpaulin, which is very durable, UV-resistant, flame retardant, 100% waterproof and non toxic.
This igloo dome is made by high heat welding, not stitching. The principle of high heat welding is two materials linked together just as one material. The seams are very air sealed and neat. And we would test the materials minutely before the transmission of the products to the customers.
It's air sealed which can keep stay for many days after once inflated. So it won't have any noise issue when you're using.
Here below are some pictures below for your reference, please check.