Inflatable Solution Provider in China

YOLLOY OUTDOOR PRODUCT CO., LIMITED
Great fun inflatable Rodeo Bull bounce castle
Item
:IS-104-1
size: 5*5 mat
Pack:2.2mX1mX1.7m
Weight:320kg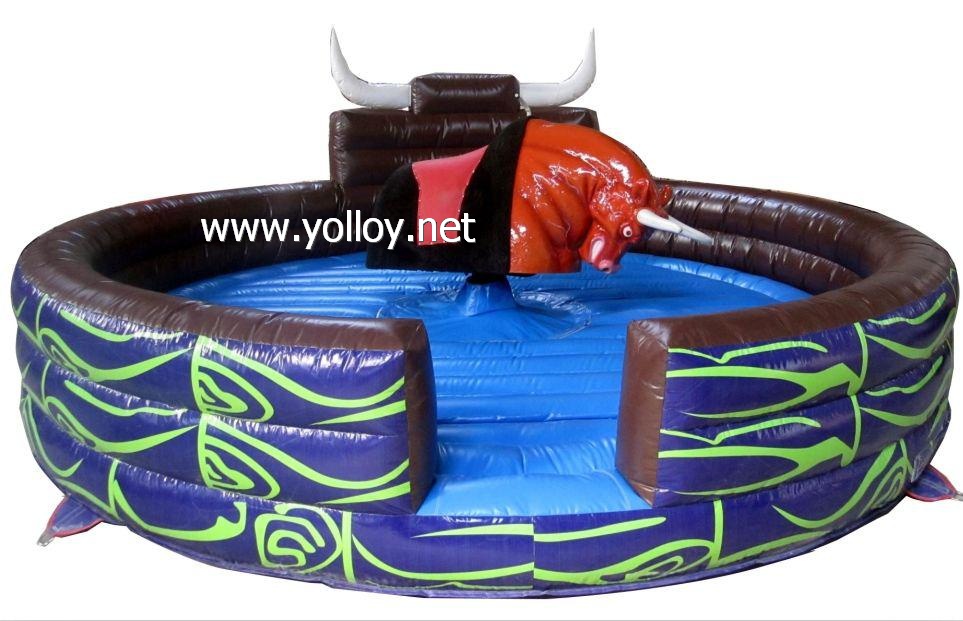 Product specification:
1 Power: 220V, 1.5KW, one phase ,the same bull game can it be used for surfing.
2 Operation size 5 meter by 5 meter.
3 Packing size: 3.5 CBM,280KG.1.6m*0.8m*1.5m
4 Workmanship: Professional welding for structure with 4mm fiberglass. The machine have CE certificate.
5 Security: Automatic Stop System(ASS)and soft horn and (head) to protect player. The machine can stop in 0.8 second when player fall down.
6 Movement Option: Spin & bunk , Jump & Turn around
7 Operation System: Auto and Manual Mode with different speed,A ten speed manual control joystick, two stop buttons and a switch that allows you to disable the spin element of the ride,LED time clocks.
8 1 set Package: Bull machine+Surfboard attachment+control console+sound box+inflatable mat+CE/UL air blower.
9 Customerized Or OEM Service: We also can produce the bull to other kind animal or Character . We can produce the inflatable mat in square shape, or in other patten and any other colors, just tell us your need ,Our great team will help you realize the true .
10 Maintenance: it is easy to maintenance,just keep the all assembling clean by using blower and a duster .In order to reduce friction, the moving parts of a machine are often oiled in 3-6 months.

Every bull comes complete with the control console, realistic looking fibre glass bull body, a motion base with full spin & buck motion and a protective inflatable cushion. The machine only takes 15 minutes to set up, making it extremely portable it will even fit in to a small van for transportation.
It is very reliable and requires minimum maintenence. It is deal for theme parks, summer camps, bars, as a rental piece in fact anywhere you want to find fun. Rental companies earn up to $2000 per day! Please contact us to find out how you can buy one of these high earning products



Here below more photo information that how game is played: