Inflatable Solution Provider in China

YOLLOY OUTDOOR PRODUCT CO., LIMITED
inflatable mat for mechanical rodeo bulll
Item
:IS-104-2
Item:IS-104-2
size: 5m*5m mat
Pack:2.2mX1mX1.7m
Weight:310kg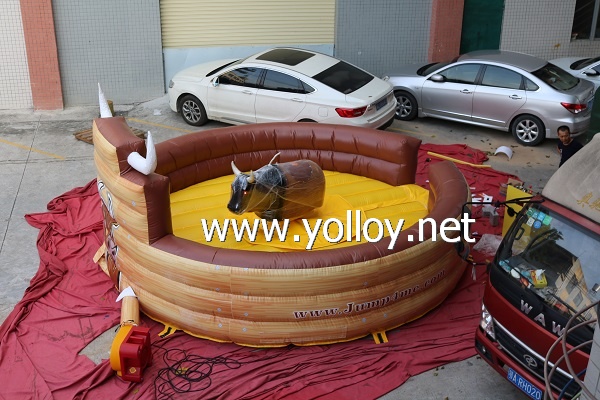 Full set includes:
1. Inflatable Bull mat. (Size=5m round, Material thickness=0.55mmPVC )Tarpauline)
2. Control console. (Automatic control and manual)
3. Sound box.
4. Air blower.
The Mechanical Bull rental is one of the most unique and fun moments for any corporate party, festivals and events. Our Mechanical Bull is great for all ages. It can be controlled for slow movement for smaller kids, and can also buck and spin really fast for teens to adults. The Mechanical Bull is an added attraction to any event, drawing in large crowds of spectators and riders.
Why Should You Consider Mechanical Bull?
1.Fun for all ages
2.Padded Surrounding
3.Indoors or Outdoors
4.commercial price mechanical bull for sale inflatable mechanical bull rodeo riding ride rental
We are selling high quality inflatable mechanical bull,here I atattach some feedback of our client for your reference,please check it.