Inflatable Solution Provider in China

YOLLOY OUTDOOR PRODUCT CO., LIMITED
Inflatable big baller
Item
:IS-804
Size:11mLx5mW
Material:PVC tarpaulin
Color & Size:Same as orignal or can be customized
Weight about:195kgs
Packing Size:130x95x95cm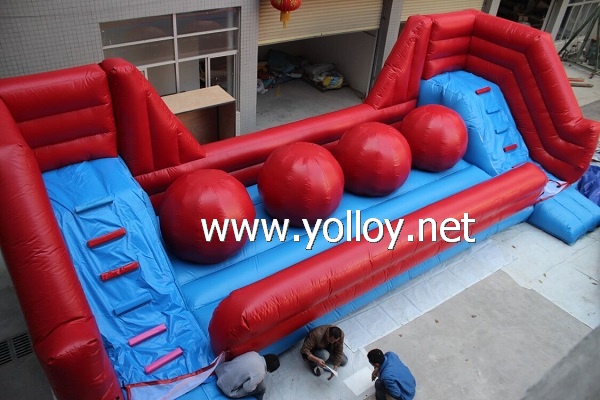 Inspired from the hit TV show "Wipeout!", the Big Baller brings a whole new level of excitement and laughter to your event. Suitable for kids and adults. Bringing you a skillful challenge that requires you to leap from ball to ball to the other side while at all times trying to maintain your balance and hopefully make it to the other side. Sure to attract a crowd as your guests watch their friends and family flail and fall down as they try to bounce from each ball to the other side.
From festivals to fairs, backyard birthday parties to corporate events - let YOLLOY show you what it means to have a perfect time with friends and family. After servicing your next event, we hope you'll include us among your family and friends as well.
Do you like it? Please contact us for more details.
Following are some more pictures for your reference: