Inflatable Solution Provider in China

YOLLOY OUTDOOR PRODUCT CO., LIMITED
Giga Ball bumber zorb
Item
:WG-134
Size: 1.2/1.5/1.8m
Color:clear
material: PVC or TPU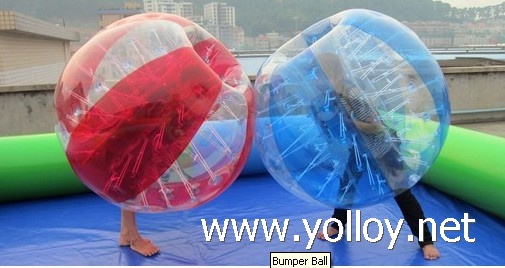 Product Description
1. Body zorb Induction:
Body zorb Ball is also called body zorb, inflatbale bumper ball, body bumper ball etc. It is inflatable sphere 1.5m or 1.8M for adults and 1.2M for children, which is made of PVC 0.8MM or TPU 0.7MM or TPC 0.8MM material. Body zorbing is the newest activity for 2011, Bodyzorbing is physical, exhilarating, and enormous fun for children and adults. Now body zorbing is very popular in UK. Body zorbing have been seen on ITV and on BBC Sport, Even Body zorbs have become part of the school sports scene in some schools. Body zorbing will be more and more popular woldwide in the furture.

2. Body zorb Detail:
(1). Material: 0.7MM TPU/0.8MMPVC /0.8TPC
(2). Regular size: 1.8M or1.5M diametere for adults and 1.2m diameter for children
(3). Colour: Various colors, transparent is the most popular color
(4). Accessory: Repairing kit, instructions, air pump
(5). There are belts in ball to protect from any hurt, Two rubber handles per ball for you to hold.
3. Body zorb description:
(1). Packing size: Carton 50x40x30cm
(2). Weight: 18kg/13.5kg/10.5kg
(3). Payment terms: By T/T, by Western Union, by paypal
(4). Lead time: 7 working days after we get deposit
(5). Shippingterms: By DHLor by UPS, by FedEx, BY AIR, By SEA. The buyer can negociate

With us, we can accept if your condition is reasonable.
4. Body zorb Fun:
Inside the body zorb ball your legs is free so it is to run, jump, walk, flip and do lots of funs and play lots of games such as Body Zorb Football, Tag, Zorb Sumo, Bulldog Zorb and many more. Or you can just run around solo and try tomaster a forward roll, cartwheel or back flip. It has many ways to play body zorbing ball, and it can also play on different locations, like grass, hill, beach, snow, water, desert, etc.

5. Body zorb playing Instruction:
(1) Make sure no sharp things on ground when playing the bodyzorbing. Need a capet the common ground.
(2) It is forbidden to carry with keys and mobile phone, glasses and sharp small decorations during the palying.
(3)Make sure to check the body zorb ball is in a good condition belt and handle is firm before playing.
(4), please keep the sign "UP" on body zorbing in right direction, Do not slide in the body zorbing in a wrong drection.
(5) player should be in belt, hold the two handles.
(6)chilren should play with the accompany of adults.
(7) people with heart disease, high blood pressure and physical weak shall not play it.
(8)It is forbidden to use in rain day, and the wind above level three.