Inflatable Solution Provider in China

YOLLOY OUTDOOR PRODUCT CO., LIMITED
Inflatable laser tag arena interactive sport game
Item
:IS-810
Size: 38ftL*38ftW*8ftH
Material:Commercial grade PVC tarps
color: Black or can be customized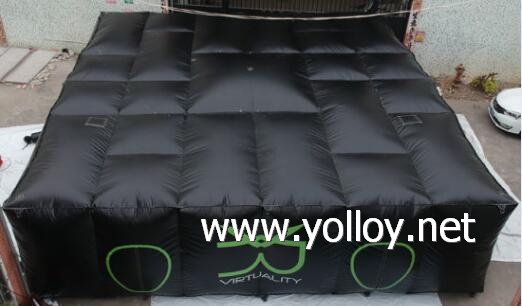 For the Inflatable laser tag arena ,it is become more and more popular in our life. Kids and adults alike will battle each other inside this high-fi, sci-fi space themed arena, with subdued lighting to create an extraordinary atmosphere. To score points, players must shoot at their opponent's laser gun with their laser beam, while at the same time preventing their own laser gun from being shot. Sure to be an unforgettable competitive experience. Six players at a time.
For your next big party or event, consider the Yolloy inflatable Laser Tag 35ft Interactive Inflatable. This fully-enclosed inflatable laser tag arena features 4 doors, 1 large central room and a whopping many smaller rooms to navigate through as you play.Of course,all the size and color can be customized as you want.Welcome to inquire with us!
Following is the 3D design drawing for your reference,if you want more details,please feel free to contact us here! And we will assist you to make the unique one for your own.