Inflatable Solution Provider in China

YOLLOY OUTDOOR PRODUCT CO., LIMITED
5 pcs Dwf Inflatable Tumble Air Track for Gymastic
Item
:IM-002
Size:1 x Air Floor : 300 x 100 x 10cm
2 x Air boards : 100 x 60 x 10cm
1 x Air Box : 100 x 60 x 20cm
Air Roll : Diameter 60 x 120 cm
Material :DWF and 0.9mm PVC
Used:Activity Fitness, Gym & Training
Color:Orange or customized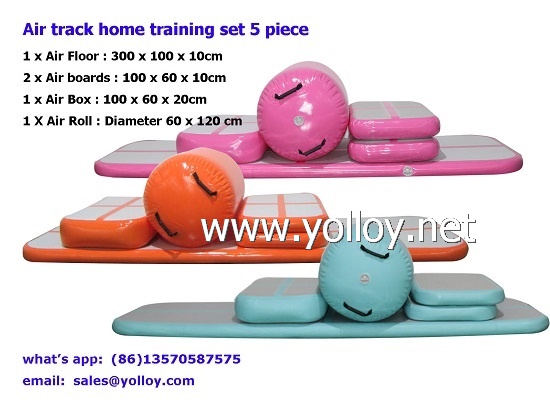 5 pcs Dwf Inflatable Tumble Air Track for Gymastic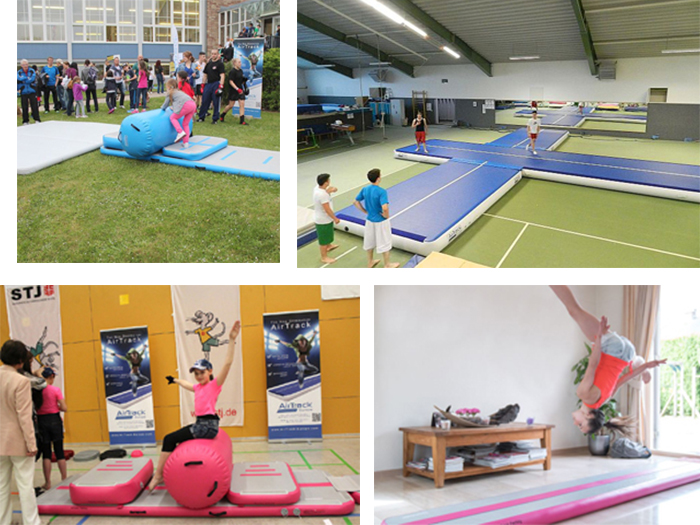 The Tumbling Air Track has 5 pcs ,it is designed to sit on a cushioned surface such as an artistic gymnastics floor, run of landing mats, or a tumble track runway to provide an incredible amount of additional spring and cushioning to the surface. Your gymnasts won't believe the cushioning and spring they get to hands and feet by practicing their tumbling on an air floor mat.
Drop Stitch Material or Strong Style PVC Tarpaulin, sealed by USA Imported Hot Air Seal Machine.
Our products are solid, safe and creative, meet with Europe and United States standard. Such as ROHS, EN-71, SGS. It is suitable for family, backyard, school, and playing center.
We have various High Quality Gymnastic Inflatable Tumbling Air Track Mat for Sale.
ADVANTAGE:
● The inflatable gymnastics mat is relatively light and easily setup in the gym.
● The Air Track can be placed on any floor.
● The required blower is very light.
● Pressure is easily customized within seconds.
● Inflating and deflating is done in within 4 minutes.
● No noise during training because continuous inflation is not required.
● After inflation, the Air Track will maintain its pressure for hours, refill only takes seconds.
● The Air Track is used best for takeoff purposes, not for landings, unless 2 or more jumps are connected.
● The takeoff is soft, which helps prevent injuries.
● The rebound on air makes you jump higher and grants more precious air-time to work on your technique.
● Jumps can be repeated more often with less chance of overuse injuries than on traditional training equipment.
● Easily portable from gym to gym. The Air Track is relatively light and small enough to fit on the back seat of your car.