Inflatable Solution Provider in China

YOLLOY OUTDOOR PRODUCT CO., LIMITED
water park inflatable water totter
Item
:WG-016-2
dimensions: 5mL*2.4mW*1.8mH
color: blue
material:0.9mm (32oz) durable
commercial grade PVC tarpaulin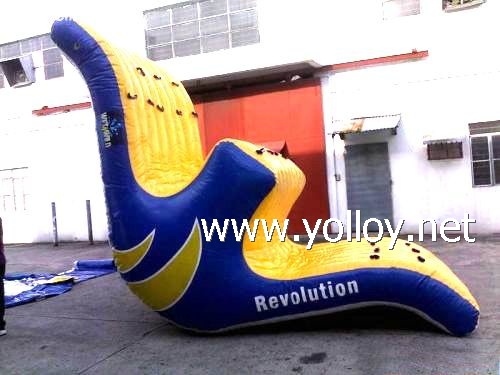 Professional manufacturer of inflatable water park. High quality inflatable water park with best price. 0.5mm PVC tarpaulin.

Bubble inflatable water games are made by high quality materails and advanced welding machine to ensure high quality, just one time inflation will keep air well to last long even under extremely low or high temperature. These inflatables are usually used as toy games for water parks, open seas, lakes, pools, etc.​
Our inflatable water park is made with excellent welding machine made in USA. It has stable performance, which makes the inflatable water park will not be overwelded or less-welded and makes it last longer. Please see the following for details of this inflatable water park:​
Item

water park inflatable water totter

Materia

Plato PVC vinyl,0.55-0.6mm thickness, water proof and fire retardant functions,Commercial usage grade standard, meet ASTM,EN71 & UV certification.

Air pump

CE/UL(220v~240v / 110v~120v) approved

Stitch​

All seams are double stitched (triple to quartic stitched in sensitive parts) and reinforcement strips stitched on all mattress seams.​

Security​

Safe and convenient air flap & durable zippers, high quality net will be stitched on the bouncer and the slide(if needful ) to protect people who playing on the inflatables.​

Usage

rental business, parties, clubs, parks, outdoor entertainment, backyard fun and any other business functions.​

OEM service​

Custom design, color, LOGO printing are acceptable.​

Website​

www.yolloy.net
www.yolloy.com​

Specifications​

Can customized​


MQO

1 pcs
Safty noted:

1: The inflatable is to be clear of any hazards and water exits.

2: The inflatable is to be positioned in such a manner that jumping or exiting from inflatable can not make contact with any potential hazards.

3: A minimum depth of water is essential for the safe operation of inflatables.The minimum depth of water should be the height of the inflatable, plus the height of user (based on 1.8m) divided by two as set out in the evaluation guide below.

4: In outdoor environments consider the risk of wind gusts on windy days as this may affect the stability of the inflatable.

5: During designated inflatable sessions, unless the use of the area where the inflatables are located is exclusive to users of the inflatable, other swimmers or users should be segregated from the immediate area around the inflatable by way of pool ropes or other suitable equipment.

6: In the event of overloading or over-inflation, the fabric itself may split leading to deflation resulting in unsafe situation.

7: Electric fans/blowers are to be sited well away from the pool side, the public and any wet areas.

8: Electric components must be installed with the voltage and grounding requirements as required by the local governing authorities.