Inflatable Solution Provider in China

YOLLOY OUTDOOR PRODUCT CO., LIMITED
Inflatable Water Amusement Park
Item
:WG-600
Size: 20m x 20m(pool)
Material: PVC tarpaulin
Color: can be customized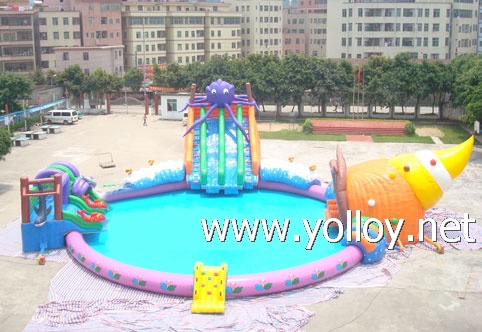 Inflatable Water Amusement Park
This inflatable water amusement park is with a large pool and 3 inflatable slides, which brings children or adult a big joy for having fun together.
It can contain 80 or more people playing at the same time. The water park offers excitement to kids when they climb on the top of slide and ride down to the pool speedly from one of the slide. Small games in the park will make the park more funny and popular.
The material we use is one of the strongest materialin world.
Dimension:
20m x 20m(pool)
7mL x 6mW x 4.5mH(slide)
6mL x 6mW x 4mH(slide)
5mL x 8mW x 3.6mH(slide)
Here are some details of the inflatable water amusement park below, please check.