Inflatable Solution Provider in China

YOLLOY OUTDOOR PRODUCT CO., LIMITED
Inflatable Christmas Decoration Giant Halloween Snow Globe
Item
:CT-018-4
Size for globe:4m diameter
Size for tunnel :1.5mL*1.2mW*2mH
Material:PVC tarps and Clear PVC(commerail grade)
Weight about :55kgs
Color & Size:can be customized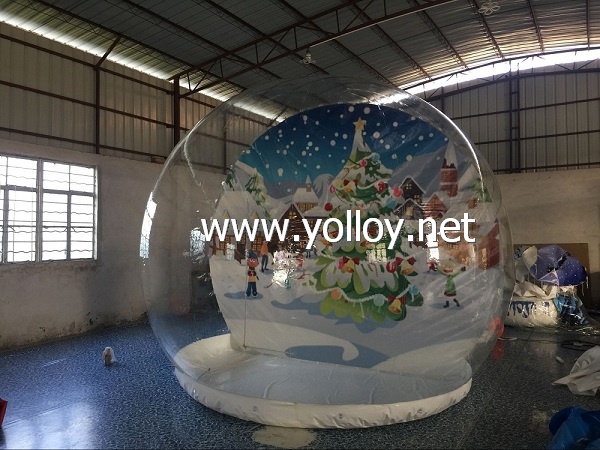 For the Inflatable snow globe can be called as human inflatable snow globe, inflatable Christmas snow globe, snowing globe, giant inflatable snow globe, or you can attach a customized backtrop to take photo! It is widely used for Christmas or Halloween festival decoration, advertising, outdoor activities, trade shows, exhibitions, promotion, etc.
Following are more detail for your reference:
Item:CT-018-4
Size for globe:4m diameter
Size for tunnel :1.5mL*1.2mW*2mH
Material:PVC tarps and Clear PVC(commerail grade)
Weight about :55kgs
Color & Size:can be customized
Do you have a specific concept for your snow globe in your mind? If yes,our highly experienced team will work with you to deliver an exceptional inflatable dome that meets your needs.
Some questions you may care about
1.What included in product?
It is included inflatable globe,blower,kit bag(including the same colors material,glue),ground sheet.
2.What about size and color?
The size and color can be changed according to your requirements or according to the size in our webpage or catalogue.
3.What the main material of the inflatable?
All the material we uesd will be made by Plato PVC Tarpaulin and Clear PVC
4.Can you print my picture or logo on the products?
Yes,we can print your picture or logo on the inflatable products ,and you can offer the picture in any format made by AI,EPS or other high quality drawing.
5.Can you design one specially?
Yes, send us details and a sketch or a picture of your requirements and we will quote you our best price.
6.What kind of guarantee you serve?
Our inflatable games can be used more than 3 years .If it is damaged,you can use the glue and material to repair it.Because it is too long distance to ship goods back,we will send a kit bag for every inflatable products.
7.Do your product meet CE/UL requirements?
Our product have passed the certificate of CE,UL.